Power lake
&nbsp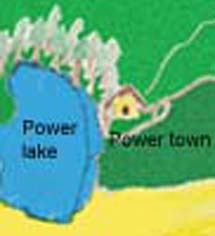 Power lake, the only lake in monster paradise. Even if you don't like lakes, you'll love this one. It's lovely. Some monsters describe it as a lake from heaven, ahh!
But the fact that it's the only lake doesn't really matter, for most people. (or, should I say, monsters?)
Power lake is surrounded by forests. As monsters live there, there has to be a road to it! There are plans to build villages closer to Power lake.
There are two kinds of monsters that live here: