Chapter 2: The hidden tunnel
They were stunned! The sheep just walked over them as if they didn't exist! It crashed into a wall and disappeared! It was amazing, it was impossible; it just couldn't disappear like that. Something had to be living here.
"We're not alone" said Ben the B3-8, another elder.
"I agree. We can't be alone" replied Dan the Drog, the third elder.
They approached the tunnel. It was terrifying!
<![if !vml]>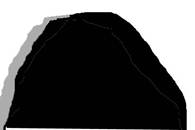 <![endif]>
Then they walked in and got the fright of their life!